BTWS Subcommittee meets on the 3rd Saturday of the month at 8:30 am on Zoom. Meeting ID: 820 785 1825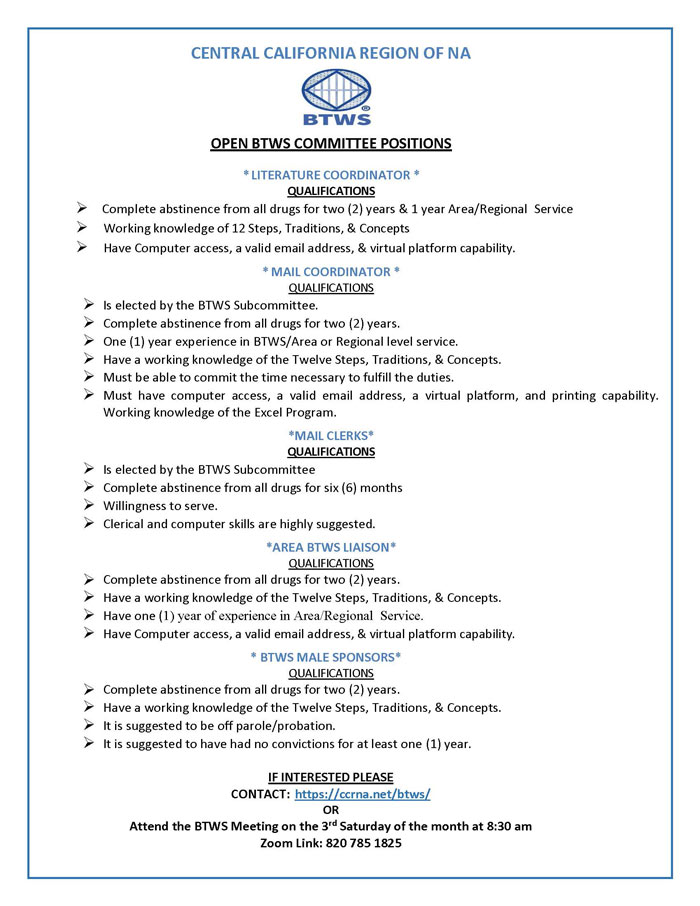 Behind The Walls Sponsorship
Our primary purpose is to provide a sponsor to work the Twelve Steps of Narcotics Anonymous to those people who are incarcerated in an institution, and are not able to meet potential sponsors at local N.A. meetings. Our interactions will only be via mail, not by telephone or visitation. Our mission is to ensure that any addict seeking recovery through a working knowledge of the Twelve Steps of Narcotics Anonymous, has the opportunity to do so even in an institution.
There are many addicts seeking recovery that are looking for sponsors. Since they are unable to attend meetings on the outside this program is a vital tool in helping to bring the message of Narcotics Anonymous to those individuals.
Important information for Institutions or professionals seeking services for facilities and/or inmates:
Our services are restricted to the following geographical regions based upon our abilities to provide these services effectively. If you are seeking assistance outside of these areas please feel free to contact NA World Services at (818) 773-9999 to get more information on similar services in your locale.
"Currently serving any long term confinement (1 year or more), Male and Female, City, County, State and Federal Institutions within the general boundaries of Kern County, San Luis Obispo County, Santa Barbara County and Ventura County."
IMPORTANT INFORMATION FOR SPONSORS
Current Sponsorship Guidelines are as follows:
Complete abstinence from all drugs for two (2) years.
Must have a working knowledge of the Twelve Steps and Twelve Traditions of Narcotics Anonymous through application.
Must have an N.A sponsor.
Men will work with men and women will work with women
Must carry a clear N.A. message
Must be off parole and probation
Must have no misdemeanor or felony convictions in at least a year or more
Must meet all of the requirements of the screening process
Must always keep in mind that they are representing Behind The Walls Sponsorship Subcommittee when interacting with sponsees.
A willingness and availability to reply to any letter within two weeks of less from the date the sponsor received the letter.
The sponsor is responsible to report that he/she is no longer available to be an active member of the Subcommittee or their assigned sponsee.
Must abide by subcommittee guidelines. Must also abide by sponsees institutions guidelines, and may be asked to resign as a sponsor to an inmate, not in compliance.
Must attend all quarterly subcommittee meetings
if necessary, may be removed by a simple majority vote of the Subcommittee
General Information Request Form
sponsorship Request Form
hospitals and institutions
more to follow